There's simple perfection in a pickle, but getting to that end product is far more complex.
To begin with, our parent company, Bay View Foods, is an integral part and partner in the pickle journey. Bay View processes the raw fruits of labor—the cucumber—working with farmers to wash, grade, sort and prepare harvests for brining. This includes cold storage and bulk shipments that end up with manufacturers.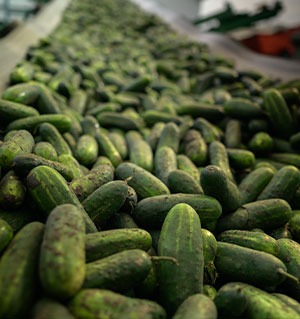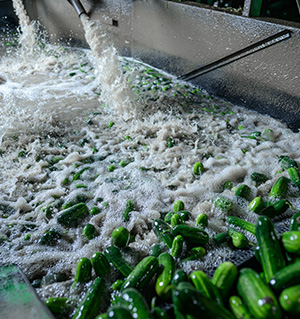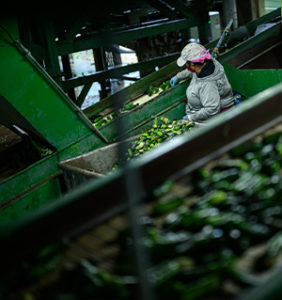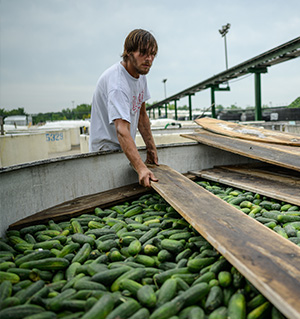 But more importantly, Bay View also acts as a front-end processor for Mr. Chips, washing, grading and sorting cucumbers that wind up swimming in the brine for our host of clientele, including industry leading private label retailers, national Quick Serve Restaurants, Fast Casual establishments and…well, just about anybody who needs a pickle, a peck or a truckload.
We also provide private label and co-manufacturing opportunities, executing custom formulations or developing brine recipes from scratch in both shelf stable and refrigerated items.
We produce pickles in the following varieties:
Whole
Spear
Slab
Strip
Chips
Diced
Cubed
Relish
Our sizes/delivery formats include:
Pouch
Pail
Jar
Tray/Tubs
Bulk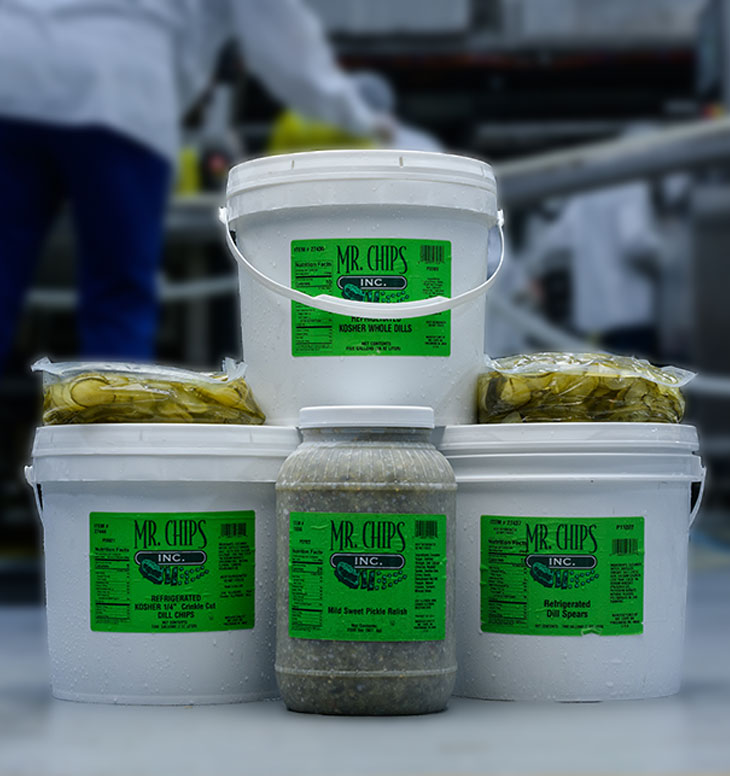 MANU #

ITEM #

WEIGHT

PALLET

PACK

DESCRIPTION

CUT

COUNT

Refrigerated Kosher Dill Pickle Spears
18055
27410
48
36
1/5 gallon
Kosher Dill Spears
275-325
Pickle Chips
18055
27438
48
36
1/5 gallon
Kosher Dill Chips 1/8″
Crinkle
3000-3300
18055
27444
48
36
1/5 gallon
Kosher Dill Chips 3/16″
Crinkle
2200-2400
18055
27446
48
36
1/5 gallon
Kosher Dill Chips 1/4″
Crinkle
1400-1600
18055
27448
48
36
1/5 gallon
Kosher Fill Chips 5/16″
Crinkle
900-1100
18055
27143
48
36
1/5 gallon
Bread Butter Chips 5/16″
Crinkle
900-1100
18055
27028
48
36
1/5 gallon
Dill Pickle Brine
Whole Dills
18055
27430
48
36
1/5 gallon
Whole Kosher Dills
55-65
Slabs (Long Cut)
18055
27422
20
80
1/2 gallon
Kosher Slabs 3/16″
Smooth
300-350
MANU #

ITEM #

WEIGHT

PALLET

PACK

DESCRIPTION

CUT

COUNT

Dill Pickle Slices
18055
27101
48
36
1/5 gallon
1/8″ Dill Pickle Chips
Smooth
3000-3300
18055
27102
48
36
1/5 gallon
1/8″ Dill Pickle Chips
Crinkle
3000-3300
18055
27112
48
36
1/5 gallon
3/16″ Dill Pickle Chips
Crinkle
2000-2400
18055
27135
48
36
1/5 gallon
Whole Dills
40-60
18055
27134
48
36
1/5 gallon
Sour Dills
40-60
18055
27716
48
36
1/5 gallon
Dill Cubes Brine
3/8″ Cube
Dill Pickle Slices
18055
27506
46
48
6 Pouch
3/16″ Dill Pickle Chips
Crinkle
275-375
Relish
18055
27121
36
48
4/1 gallon
Prem Sweet Pickle Relish
1/4″x1/8″x1/8″
36-39
18055
84107
36
48
 4/1 gallon
Sweet Pickle Relish
1/4″x1/8″x1/8″
24-28
18055
27108
36
48
 4/1 gallon
Dill Pickle Relish
1/4″x1/8″x1/8″
18055
27231
36
48
 4/1 gallon
Pepper Relish
1/4″x1/8″x1/8″
MANU #

ITEM #

WEIGHT

PALLET

PACK

DESCRIPTION

CUT

COUNT

Banana Peppers
18055
27238
46
48
8 pouch
Mild Banana Peppers 1/4″
Crinkle
18055
27230
46
48
8 pouch
Hot Banana Peppers 1/4″
Crinkle
Jalapeño Peppers
18055
27239
46
48
8 pouch
Jalapeño Peppers 1/4″
Smooth
18055
27142
46
48
8 Pouch
Diced Jalapeño
1/4″x 1/4″x 1/4″